Today was an exciting day. Christmas began for me today. The wonderful time of giving and receiving presents and the time for reflecting back on Jesus's birth.
I was full of excitement when looking into the mailbox today. I saw Will's package and couldn't wait to see what was inside. And oh boy was I not disappointed.
Will's an amazing guy I and always enjoy collecting a ton of Orioles for him and sending them off to him. Yet, what's so cool with our relationship is he does the exact same. It's always so much fun seeing what is in every package because you just never know what will be concealed in those bubble mailers of his.
So go over there and check
Will's
blog out. I know he always loves a new trading partner.
Yet, I think I've made you wait long enough. Here is what I received from Will this Christmas.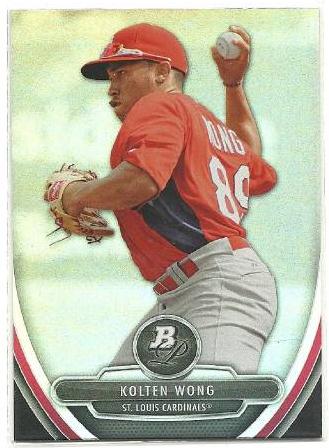 First up here, we've got the new Cardinals second baseman. The Cardinals 2011 1st round selection out of Hawaii, Kolten looks like he has quite the future ahead of him in St. Louis with David Freese being traded this offseason.


Joe Kelly. One of my favorite Cardinals right now. This season was definitely a breakout season for him to say the least. Enough though Shelby Miller and Michael Wacha took most of the spotlight, Joe Kelly quietly put up great numbers. He went 10-5 with a 2.69 ERA and 79 strikeouts. Woo, that's pretty good.

Last but not least, Lance Lynn. The guy that just can't put two and two together. He went 15-10 with a 3.97 ERA and 201 innings pitched. Average to say the least, but at the beginning of the season he was 5-1 and just ran out of gas at the end of the season.
I really like the look of this relic. The mini aspect of the relic gives it an intriguing feel to it. It's not like many others. It is definitely a great jersey card to add to my collection. My first one to be exact. Wait now that I think of it, I have a Lance Lynn trifecta. Wow, thanks Will. That's really cool.
Well, there you have it folks. My first Christmas present this year. Thank you Will and thanks for reading everybody. Have a great time blogging!