Ahhhhh rookie cards. One of the prides and joys of my collection. So what's so special about this one you ask. Well silly, it's Mike Trout, only one of the young and brightest baseball stars in this day and age.
Wait a minute though, what's so special about this one? Why wouldn't you just insert this Mike Trout RC into your Rookie Card Challenge instead?

Well I am glad you asked mysterious voice in my head.
This Mike Trout is a little more common than the Topps one at the top.
Topps makes much more rookie cards than Bowman does.
Who doesn't love retro jersey's?
Ok seriously though, let me get down to what this post is all about.
I love rookie cards.
It's kind of hard not to.
The top prospect, the no-namer, and my personal favorite, the underdog.
I have been doing this project for awhile now and basically what I am attempting to accomplish is to collect all the rookie cards registered, dating back to 2010.
Why 2010 you ask? I chose 2010 because that was basically my inception into the hobby and it is an even number. I like even numbers.
I choose to collect the Topps Rookie Card first of any player generally because if the player ever becomes a "somebody" the Topps flagship issue of the card is typically the one that becomes the most iconic towards the player.
Also, Topps Flagship are much more easy to obtain than say Topps Finest.
To make this easier to comprehend I'll give you some examples with the use of pictures.

Yes

No
I love prospects cards as well, but I'll elaborate on that in a different post. Yet the distinguishing factor in this battle is that one is a rookie card and one is a prospect card.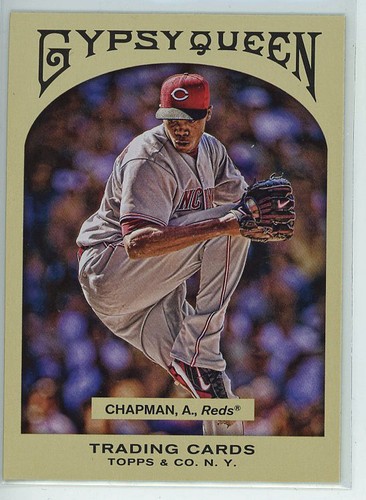 All Nopes
Since Mr.Chapman here already had a Topps Flagship card produced of him above, these are then all irrelevant.
A couple more examples before I go.


Poor Chance Ruffin. He had to play for 2 teams in his rookie year. In this case, both these cards make it into the collection because he is featured as a rookie card on two different teams.

I hate this. Although it is clearly Mr.Alvarez's first card ever produced of him, Topps just couldn't take the time to slap on a rookie card to make it official. Stupid lazy people at Topps. Sadly this one makes it into the collection as well.
I hope this explanatory post helped. There are a few odds and ends that I didn't touch on, but I hope everybody better understands my massive project. If you think you can help me click that lab above and comment below if you have any that I may need.
Thanks for stopping by and God Bless!