And yes I do have PayPal. I know these haven't worked out in the past for me, but I thought it might be worth a shot again. Prices are at the bottom. If we get it filled up quick enough I'll even add in another box.
So here is what we have lined up for this time around.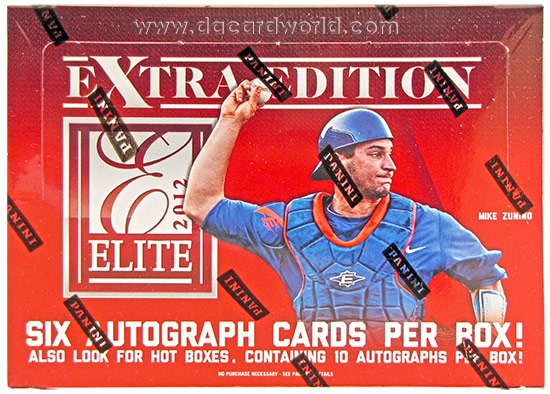 2012 Elite Extra Edition
6 AUTOS PER BOX!!!
Autographs:
Carlos Correa
Byron Buxton
Mike Zunino
Kevin Gausman
Corey Seager
Joey Gallo
Addison Russell
Albert Almora
Michael Wacha
Andrew Heaney
MUCH MORE!!!
http://www.cardboardconnection.com/2012-panini-elite-extra-edition-baseball-cards
2011 Elite Extra Edition
6 AUTOS PER BOX!!!
Autographs
Gerrit Cole
Dylan Bundy
Archie Bradley
Joe Panik
Kolten Wong
Sonny Gray
Javier Baez
Brandon Nimmo
Josh Bell
George Springer
Francisco Lindor
Robert Stephenson
Many More!!!
2008 TriStar Projections High # Series
4 Autographs Per Box!!!
Autographs
Clayton Kershaw
David Price
Josh Donaldson
Michael Brantley
Justin Masterson
Mike Moustakas
Eric Young Jr
2008 TriStar Prospects Plus
4 Autographs 1 Memorabilia Per Box!!!
Autographs
Pedro Alvarez
Eric Hosmer
Brian Matusz
Anthony Gose
Lance Lynn
Tyson Ross
GRAND TOTAL: 20 AUTOGRAPHS!!!
Shipping is included with your purchase, so no addition charges. Send payment via Paypal gift to Superduperman99@yahoo.com. Comment below the team you want and we'll see how quickly we can get this group break going. I am really excited about this.

I'll get the boxes ordered as soon as all the slots have filled up. Thanks for stopping by!

•Arizona Diamondbacks 6-@roundatbase
•Atlanta Braves 5-@bighero6_cards
•Baltimore Orioles 6-Foul Bunt (PAID)
•Boston Red Sox 7-Matt Perry (PAID)
•Chicago White Sox 5-Jeff Laws (PAID)
•Chicago Cubs 7-Foul Bunt (PAID)
•Cincinnati Reds 5-Red Cardboard (PAID)
•Cleveland Indians 5-Ken Damon
•Colorado Rockies 5- hiflew
•Detroit Tigers 6-Noah
•Miami Marlins 5
•Houston Astros 7-Marc Brubaker (PAID)
•Kansas City Royals 6
•Los Angeles Angels 5-Angels in Order (PAID)
•Los Angeles Dodgers 8-Alex Markle
•Milwaukee Brewers 5-Foul Bunt (PAID)
•Minnesota Twins 6-Brian O'Neal (PAID)
•New York Mets 7
•New York Yankees 8-Caitlin Jennings
•Oakland Athletics 7-Andrew Carwile
•Philadelphia Phillies 5
•Pittsburgh Pirates 7-Matthew Scott (PAID)
•San Diego Padres 5-Marcus
•San Francisco Giants 5-Caitlin Jennings
•Seattle Mariners 6-
•St. Louis Cardinals-Superduperman99 (PAID)
•Tampa Bay Rays 5
•Texas Rangers 7-Brian Snider (PAID)
•Toronto Blue Jays 5
•Washington Nationals 7