A little while back, my best friend and I Andrew from Andrews Baseball Cards decided to exchange Christmas presents.
It's always a fun time for each year because we typically have no clue what we are going to get from one another.
This year didn't disappoint either.
I don't know if he posted about what I got him, but I know when we did this he enjoyed every minute of it.
Yet I can't remember what I got him, so I'll just have to present to you what he gifted to me.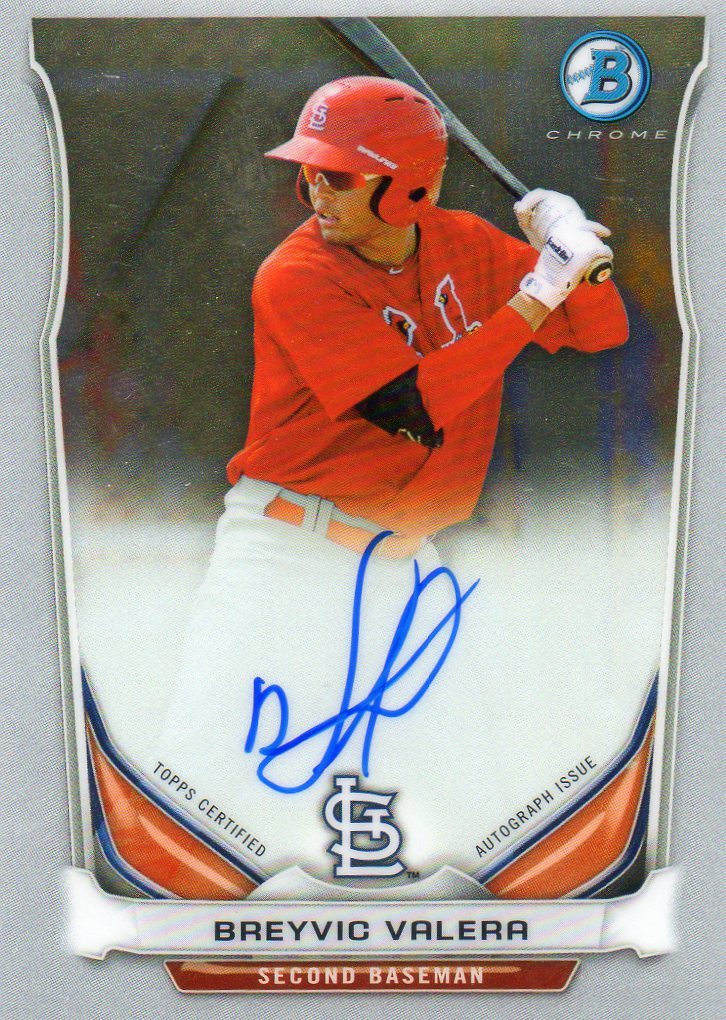 Signed out of Venezuela in 2010, Mr. Valera here has flown through the Cardinals minor league system. He just finished his first year of AA ball at the sprightly young age of 22. That's pretty good if you ask me.
Although he has swung the bat well through the ball parks he's been too, he doesn't project to be much more than a Daniel Descalso esque player. Just minus some of the fielding Daniel had and add it too his hitting, and that is basically what you have in Breyvic.
Either way it will be fun to see how he develops.

And now time to bring out the big guns. Andrew was very gracious in helping me find a card I have been on the hunt for for quite a while. Lance Lynn you have finally been captured.
As some of you may know, I am a big Lance Lynn fan. He was one of the first Cardinals I got to meet face to face and he came up the same year I started collecting, 2011.
So to obtain a card of this magnitude means a lot to me. So thank you very much Andrew.
And that doesn't even cover what he got me for my birthday.
This bad boy...

Photo courtesy of eBay
2013 1st Round Pick Robert Kaminsky. My second auto of him to be exact. Numbered out of 210, this is truly one sweet card.
Rob played his first full year a A Peoria and if he stays long enough into next year, I'm hoping to watch him play in person.
I cannot wait to see him in the Cardinals rotation in the near future.
Well that's all I have for you today folks. I'm still in the holidays mode, so if you see more Christmas and New Year's posts pop up you'll know why.
Hope everybody has a great week! Thanks for stopping by and God Bless!